Add A Splash Pools specialise in commercial pool renovations using AquaForce, the ultimate pool finish.
We can refurbish commercial pools across an array of facilities including leisure centres, apartment complexes, remote mine sites, gymnasiums, aged care facilities, swim schools, resorts, and caravan parks. Suitable for renovating vinyl lined, concrete and fibreglass commercial pools, AquaForce is a hard wearing, safe and flexible watertight barrier.
As commercial pools age they can become unsafe and expensive to operate. Many commercial pools are a concrete construction with expansion and contraction joints. These joints deteriorate over time and can be a large source of water loss. When coupled with structural cracks which develop over time due to ground movement, maintenance to patch and fill can be an expensive and ongoing issue. Refurbishing the existing pool with a long lasting, purpose designed solution is far more cost effective than 'stop -gap' repairs or a complete rebuild of the facility.
The solution is AquaForce, a reinforced membrane, which is both strong and flexible so even if there is shell movement that would cause tiles or other surfaces to crack and leak, AquaForce will maintain a waterproof barrier.
AquaForce is used worldwide and is the surface finish of choice for commercial pool operators. Using new millennium polymer technology, 3 plies are fused together forming a strong, flexible, and watertight second skin.
Layer 1- high stability and tensile strength.
Layer 2- web material (scrim) to control stretch
Layer 3- designed with a tactile surface to interact with water, chemicals, and ultraviolet light, this forms the external layer
Why AquaForce?
Compliant to Department of Health WA code of practice, pertaining to aquatic facilities – January 2020
Perfect for high use indoor and outdoor pools – such as community leisure pools, hotels, schools, apartment complexes, aged care facilities and mine sites.
Prevents leaks and cracks saving water and maintenance costs
Thermal properties reduce heating costs
Soft to touch finish with a contemporary look
Hard wearing and safe due to its non-abrasive surface
Permanently flexible – as the ground moves so will AquaForce thereby remaining watertight.
UV treated for indoor and outdoor – great for harsh Australian conditions
Easy to maintain- require less chemicals due to inbuilt fungicide
Top layer coat makes AquaForce resistant to staining, fading and chemical damage.
10-year limited warranty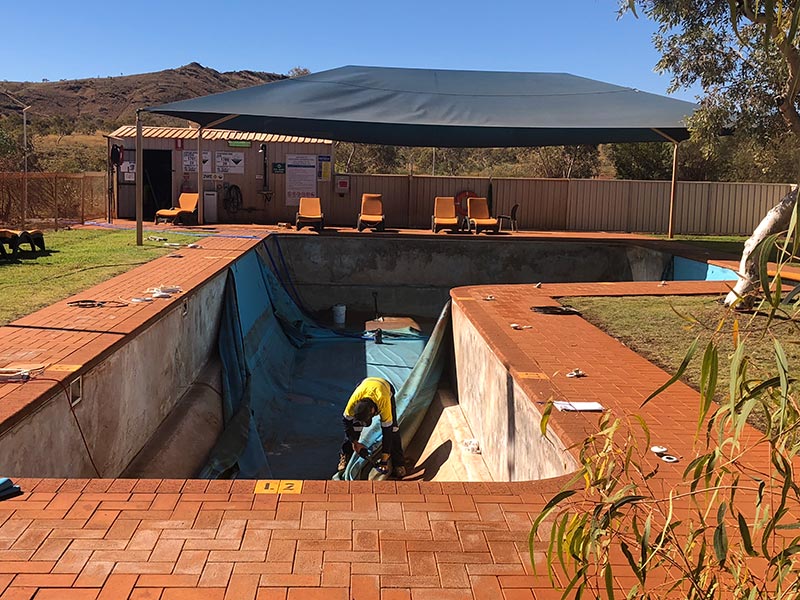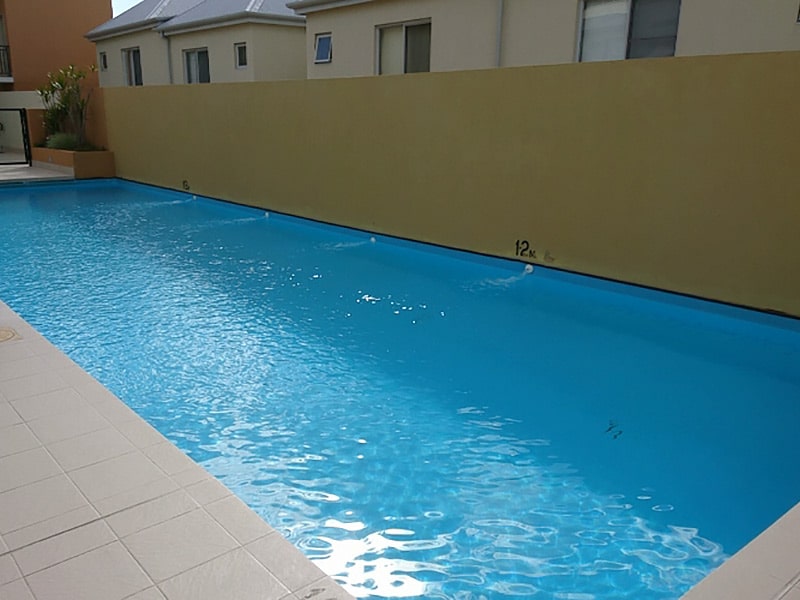 Eastgate Apartments East Perth